Back to List
Fun in the AiR Staged at Chengdu IFS, Launching Brand-New AR Experience
April 17, 2020, Chengdu — AR experience is becoming a new trend in Chengdu. It turned out that the "Fun in the AiR" AR exhibition jointly initiated by Chengdu IFS and British trendy artist Jack Sachs, was officially launched on April 17, 2020. As the first outdoor AR exhibition in China, with the help of AR technology, "Fun in the AiR" has creatively produced six theme-based scenes in the outdoor space at the Sculpture Garden, 7th floor of Chengdu IFS. After scanning the QR code, visitors can watch the exhibition and enter the wonderful AR world, and experience the beauty of spring in the interesting interaction with AR animation images.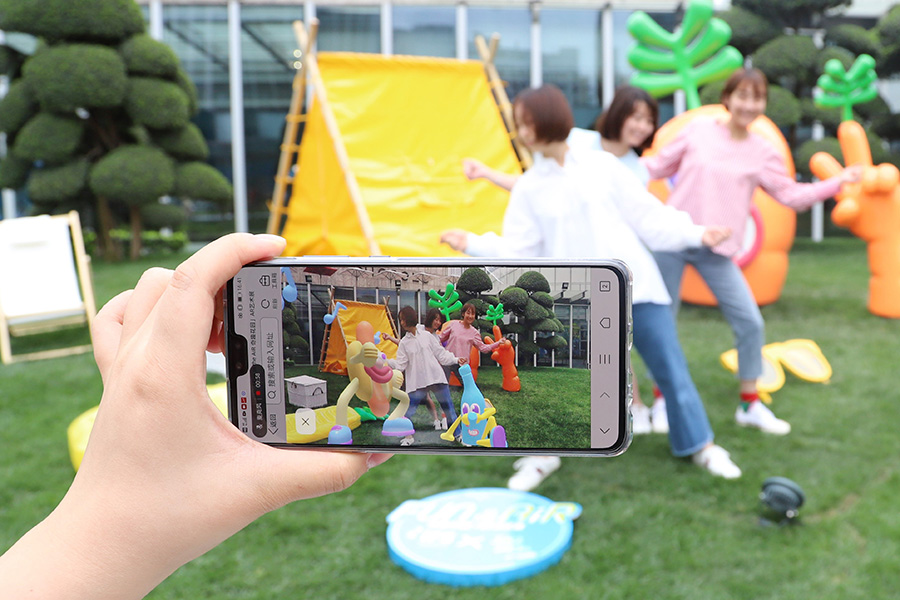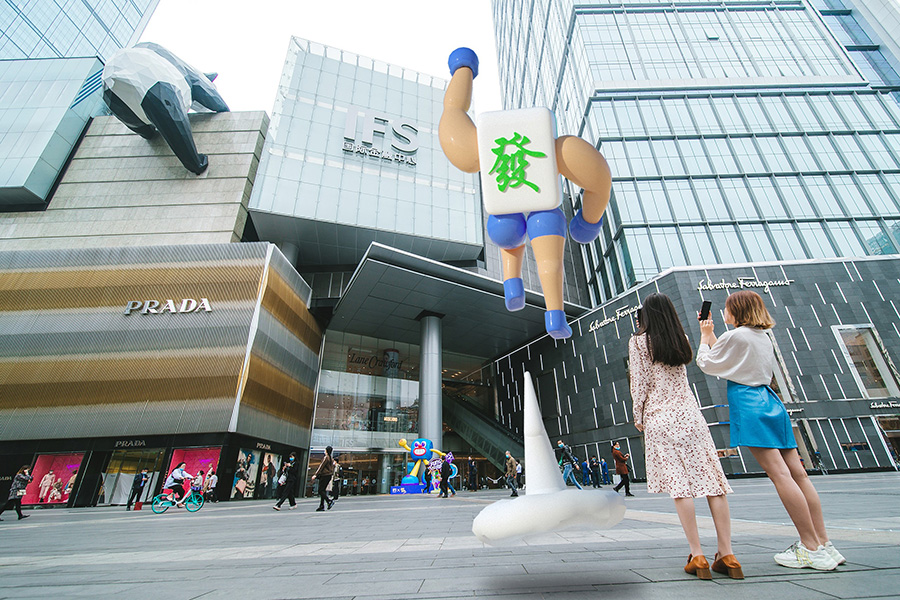 Citizens scanning the QR code to join "Fun in the AiR"
Integration of Trendy Art and Local Elements
Artist Jack Sachs is good at creating exaggerated and humorous animation images with simple geometric shapes and bright colors, giving ordinary things a unique character and an optimistic attitude. This AR exhibition perfectly integrates virtual 3D animation images with real-life scenes, and adds Sichuan characteristics such as mahjong to modern art, bringing special surprises to Chengdu citizens.
The six theme-based scenes of "Fun in the AiR" are distributed in the SculptureGarden, 7th floor of Chengdu IFS, at the main entrance of Hongxing Road on the first floor. After months of home quarantine, you may come here and have fun. Here, you can help "Mahjong Superman" soar into the sky; win all kinds of mahjong games in the "Busy Panda" scene; smell flowers and with the "Spring-equipped Cat"; join Mr. Hot Dog's dance party and enjoy a "Magic Picnic" with Mr. Beer; get on the "Traveler" car and start a trip around the world; and exercise with Mr. Big Hand in the "Fitness Space". In addition, there are lucky eggs hidden at the entrance of the subway station of the project, waiting for you to discover.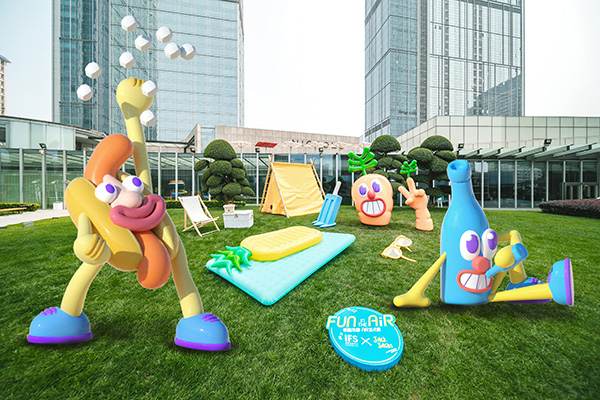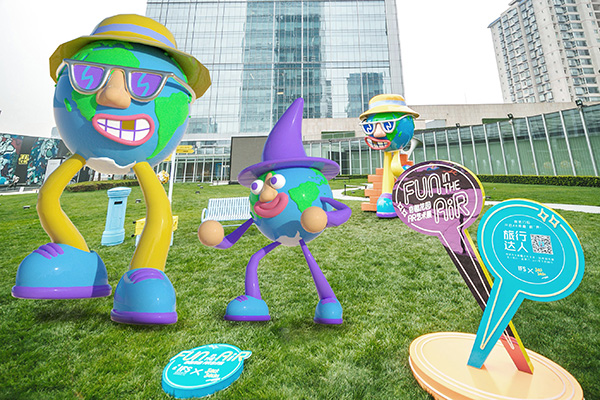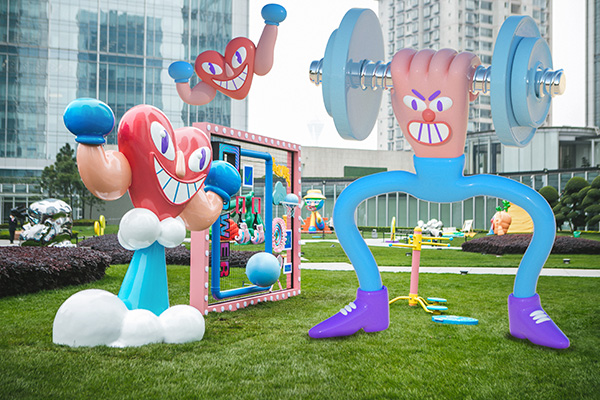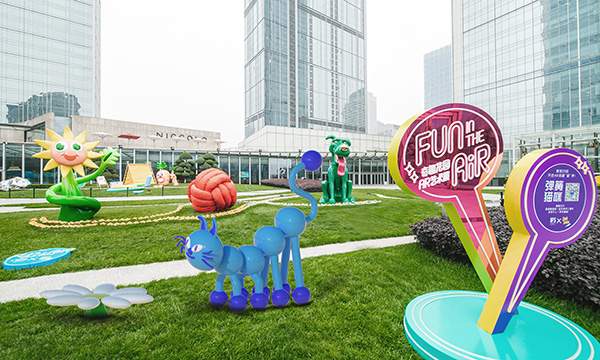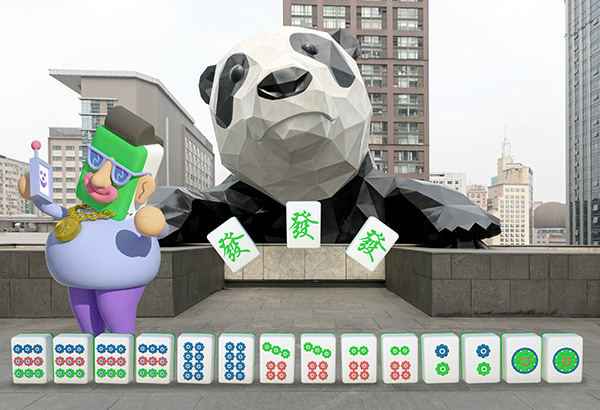 The six theme-based scenes integrate diversified elements including mahjong, picnics, travel, fitness and pets.
Wonderful Experience at this Popular Site
As soon as it is launched, "Fun in the AiR" has become a popular site in the city, and it also serves as an exclusive destination in the context of the epidemic prevention and control — you may just "scan" the QR code to enjoy AR experience and realize your wishes such as playing mahjong, traveling, picnicking, exercising and playing with pets. Without the need of deliberately keeping others away at a distance, you can interact with cute AR friends without contact, leave a wonderful group photo, dispel your worries and enjoy the fresh air and warm sunshine in carefree companionship.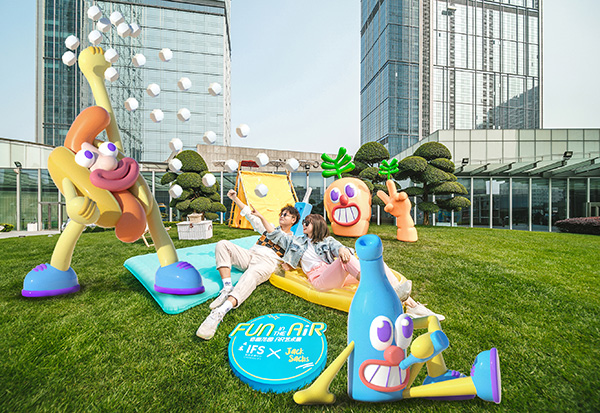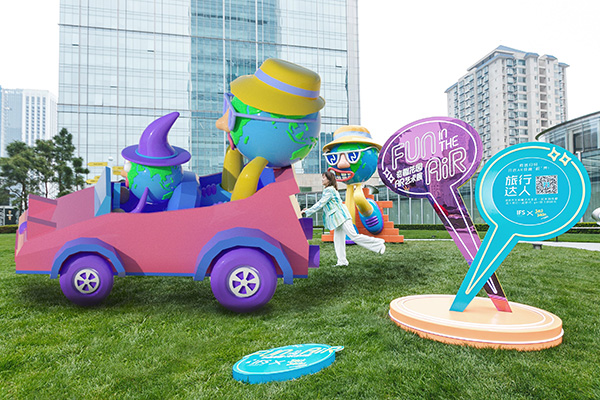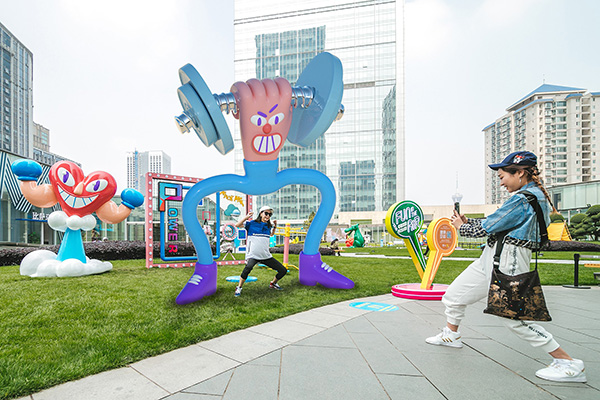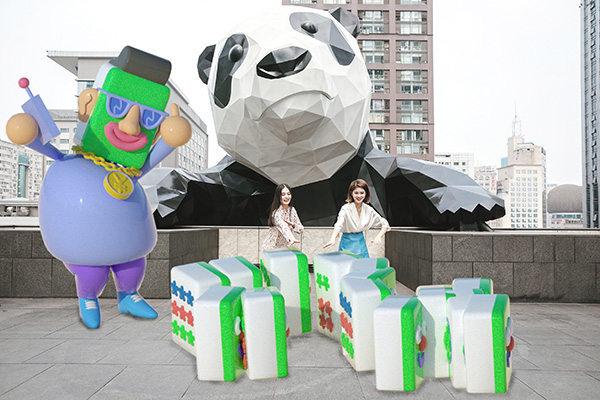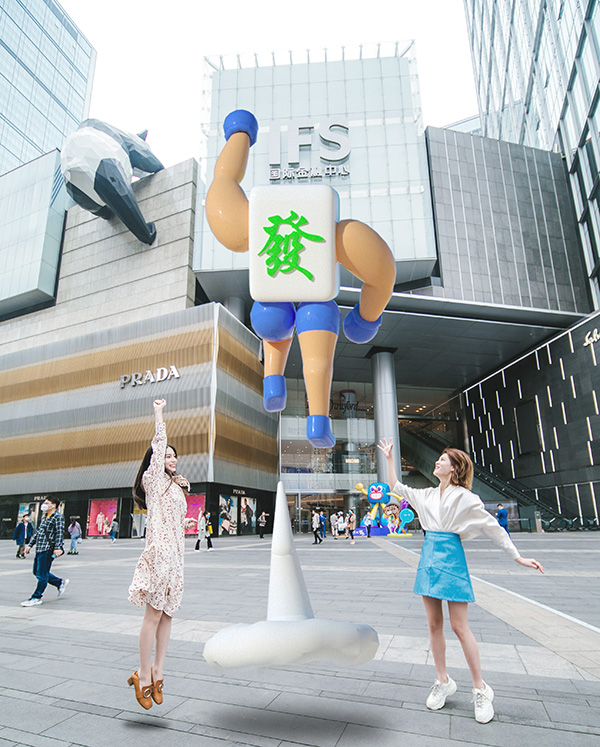 Citizens taking photos with the AR animation images
The AR exhibition will last until May 17, 2020, and you may have great fun in "Fun in the AiR". We have prepared not only rich activities such as online guide map sign-in theme-based scenes, member points lottery and gifts for certain amount of consumption, but also exquisite cartoon products such as jointly-designed skateboards, children's backpacks, eye patches, stickers, among others. Fun in the AiR is looking forward to your visit! Welcome to have fun here!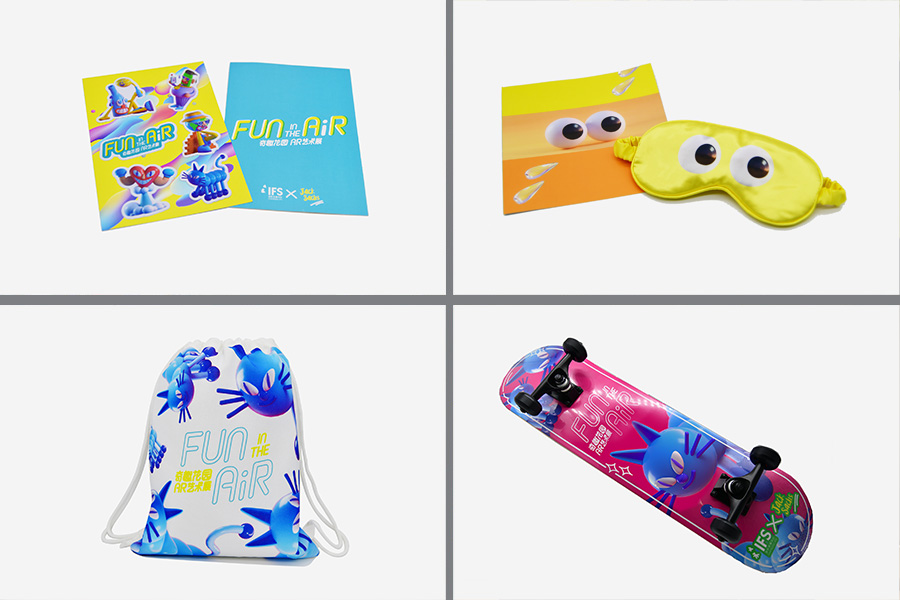 Cartoon products jointly-designed by Jack Sachs give you more fun.
Activity Details
Theme: Chengdu IFS "Fun in the AiR" AR exhibition
Date: April 17 – May 17, 2020
Venue: SculptureGarden, L7 of Chengdu IFS, at the L1 main entrance of Hongxing Road