Back to List
Chengdu IFS Unveils The Migration, a "Cracking Art" Public Art Exhibition That Builds on Circularity to Celebrate Beauty of Nature
Chengdu, China, April 28, 2023 – In celebration of the blooming spring and the prosperous nature, Chengdu IFS, the city's landmark urban complex, today proudly unveiled The Migration, an eco-public art exhibition created by renowned Italian art movement "Cracking Art". Marking the movement's 30th anniversary, the Chengdu exhibition comes after its previous stop at Hong Kong's Harbour City. The exhibition gathered 90 animal sculptures made from regenerated plastic at downtown Chengdu, whose vivid colors and lively gestures bring natural healing power to busy urban dwellers and enable a cute seasonal encounter.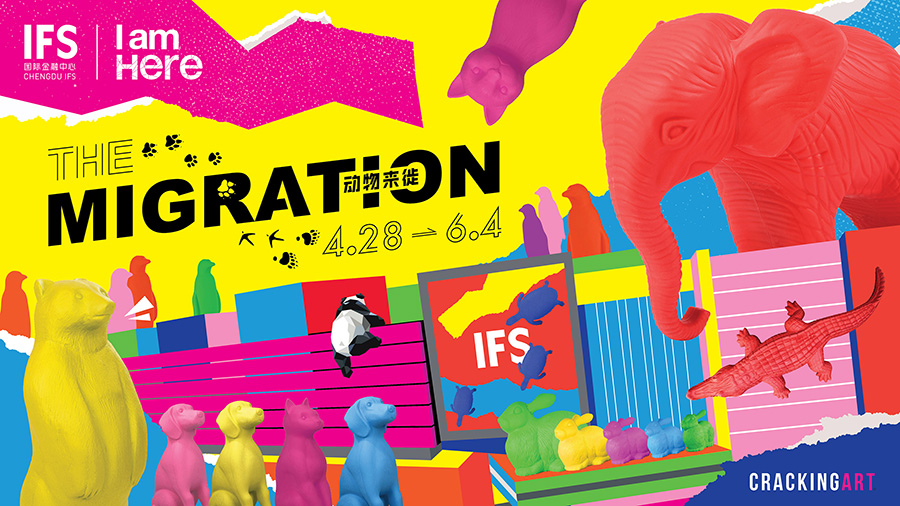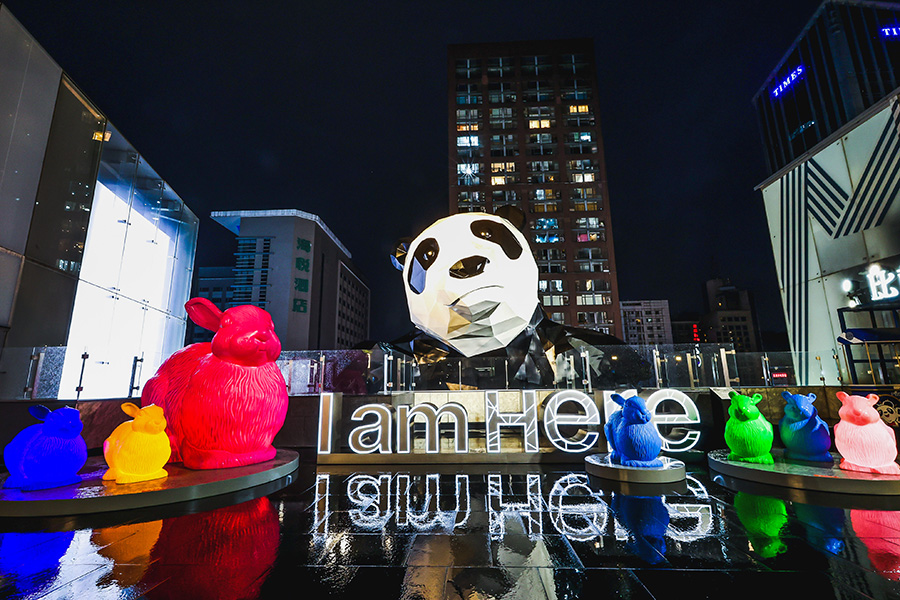 Immersing into Natural Vitality
A legion of adorable animals is embarking on a migration journey from Italy to China. After their visit to Hong Kong, they are now coming to Chengdu, their first stop in Mainland China. They have been invited by their dear friend, the giant panda I AM HERE, to experience the vibrant Southwestern metropolitan and create unforgettable memories.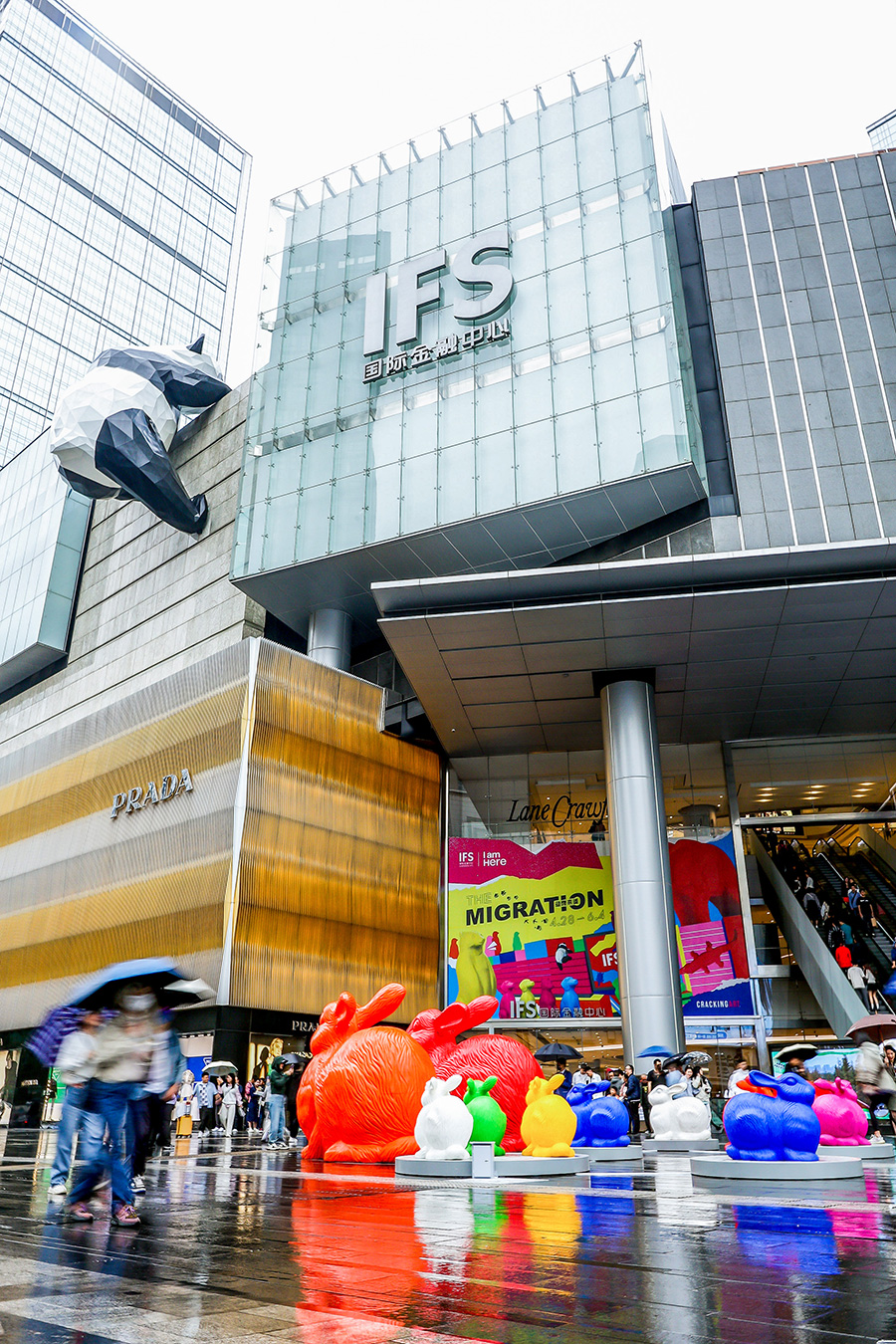 Trendy Bunnies on Parade
Location: Outside L1 Gate 3 on Hongxing Road
A dozen vibrant bunnies have gathered to parade their way to Chengdu IFS, the ultimate destination of their migration journey. This playful installation is also a nod to a beloved local tradition, as Chengdu residents often joke, 'I'll be waiting for you under the giant panda.' With their colorful costumes and joyful expressions, these bunnies are sure to bring a smile to the faces of all who see them.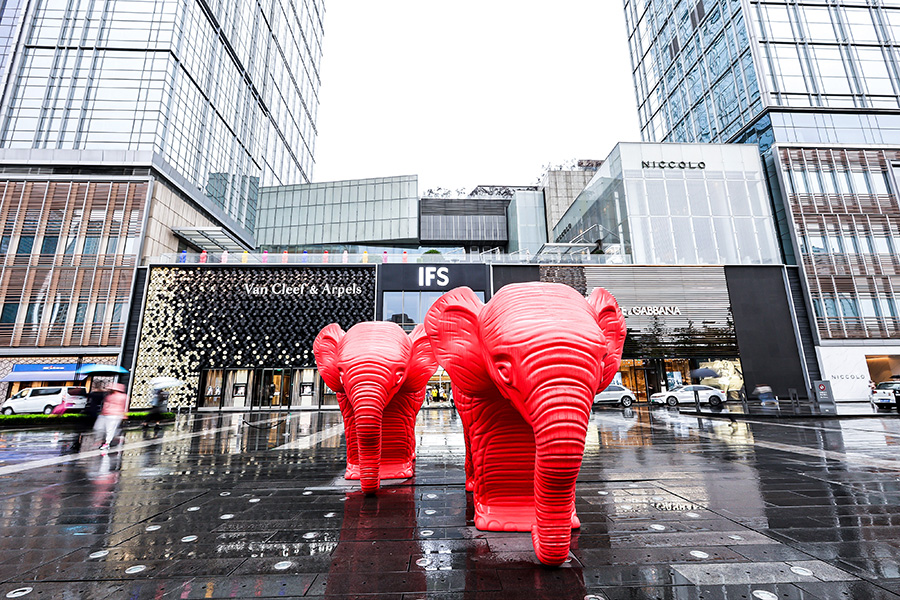 Romance of Intimate Elephants
Location: L1 Roundabout on North Shamao Street
After a delightful candlelit dinner at Chengdu IFS, a pair of elephant lovers are taking a rare and romantic stroll, feeling a deep sense of satisfaction and companionship surrounded by the beauty of the city.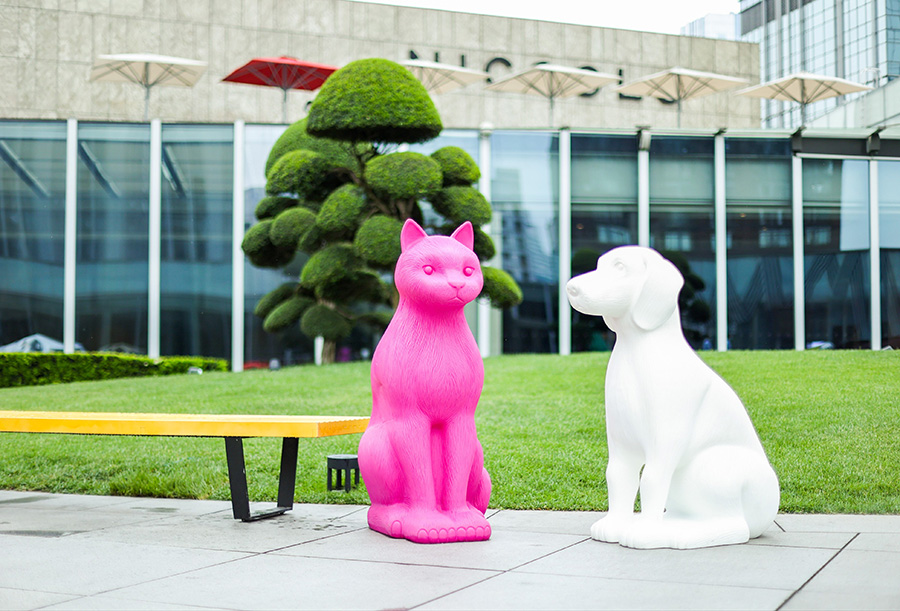 Cute Cat-and-Dog Alliance
Location: L7 Sculpture Garden
A group of kittens and puppies scatter around the 7F Sculpture Garden, leaning on and talking to all human visitors, who they always see as closest friends.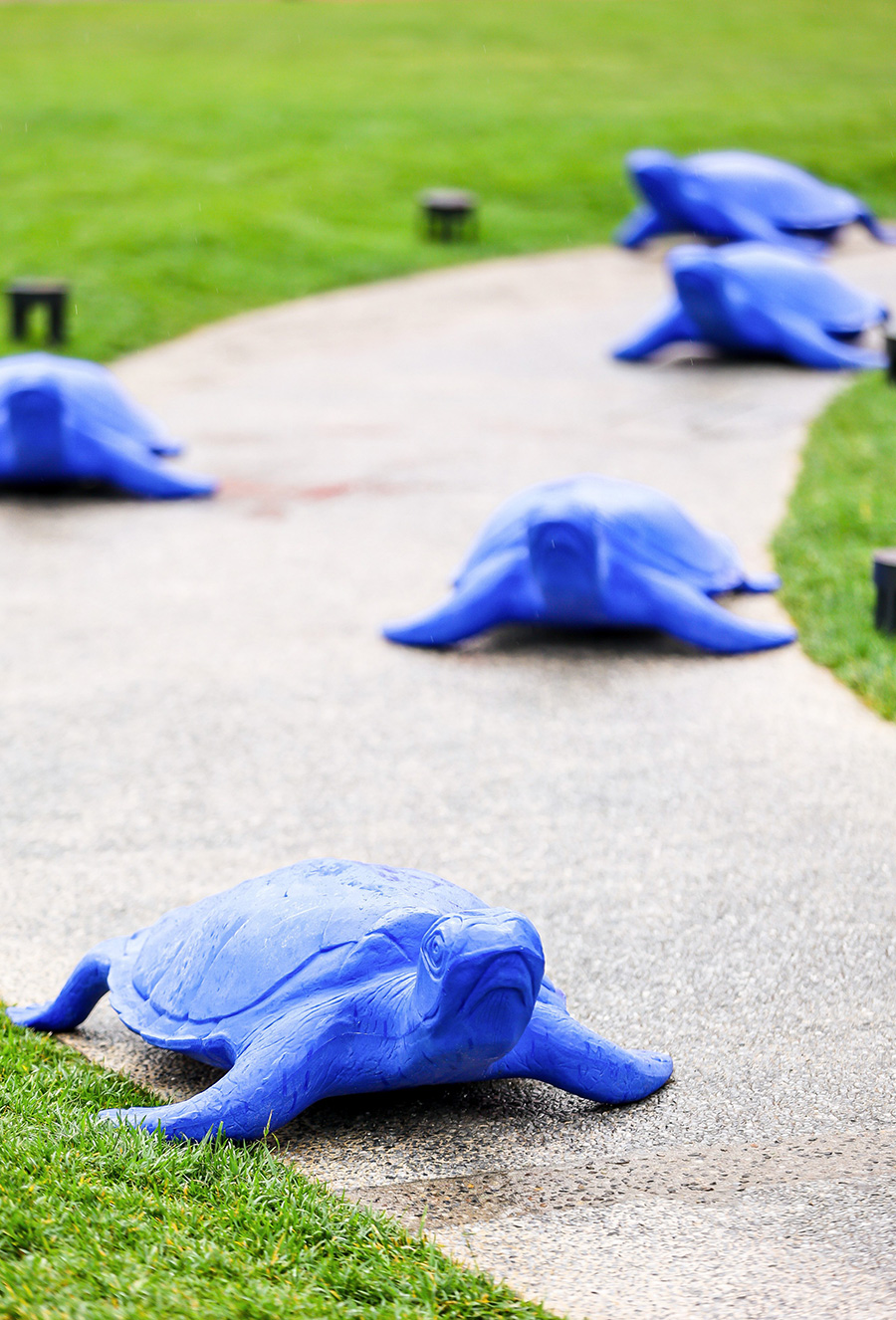 Relaxing Turtle Vacation
Location: L7 Sculpture Garden
Dressed in the colour of the ocean, a dozen sea turtles have switched on vacation mode, crawling out of the water to bask in the warm sun.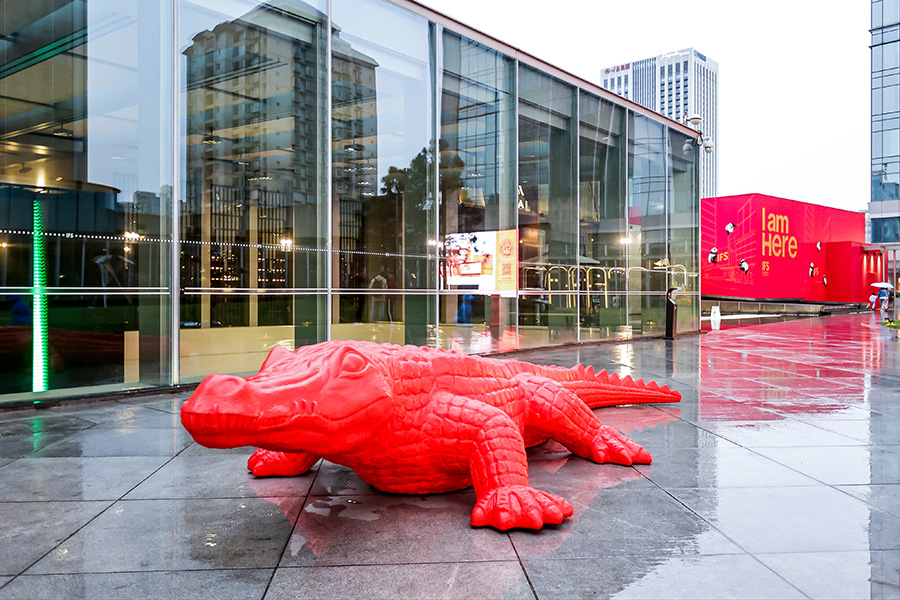 Look out for Crocodiles!
Location: L7 Sculpture Garden
Known as the oldest living fossil on earth, a five-meter-long crocodile is strolling among the crowds. This harmonious interaction between people and animals set a new benchmark for ecological civilization, showcasing the beauty of coexisting with nature
Star-Gazing Rabbits
Location: L7 Sculpture Garden
A group of lively and cute rabbits are gathering at the roof top to take a commemorative photo and admire at the starry night with their dear friend, the giant panda I AM HERE.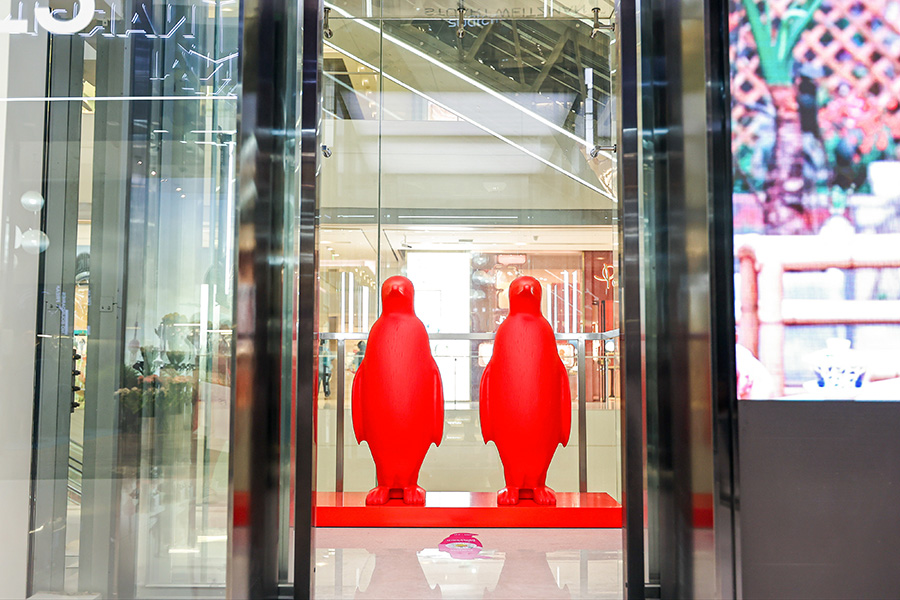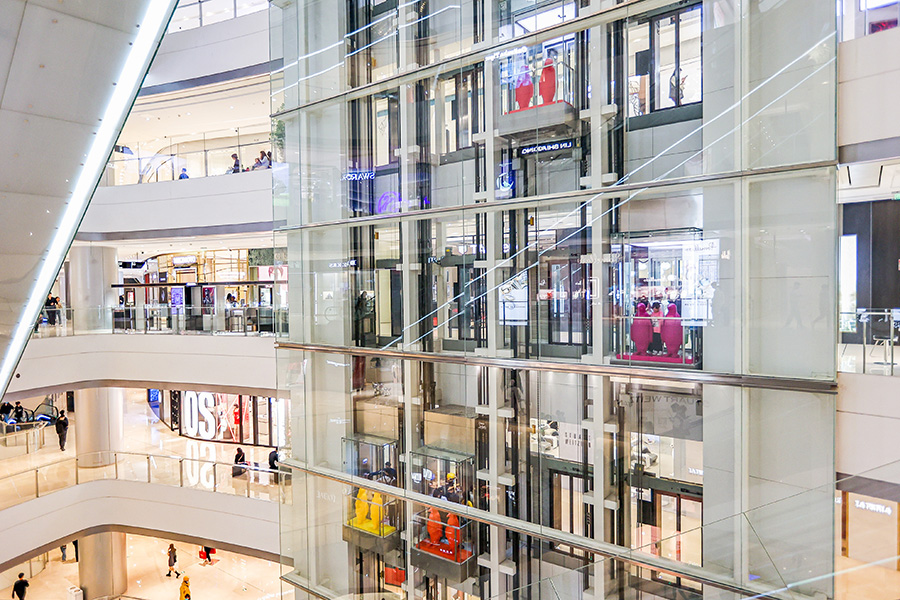 Flying Penguins
Location: Sightseeing Elevators
In the era before the ice age, penguins had to choose between life in the sky or in the ocean. Today, visitors can look forward to a delightful surprise; encountering these charming birds, as they soar by in the sightseeing elevators at Chengdu IFS.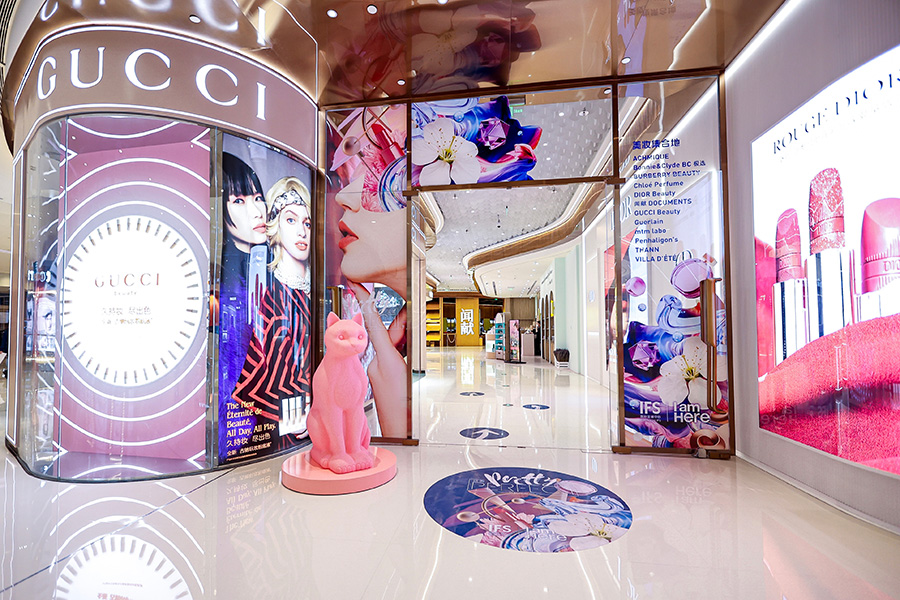 Madame Kitten
Location: LG1 Cosmetics Zone
Madame Kitten, as a symbol of grace and elegance, exudes irresistible charm with every move, and it is in her nature to please herself.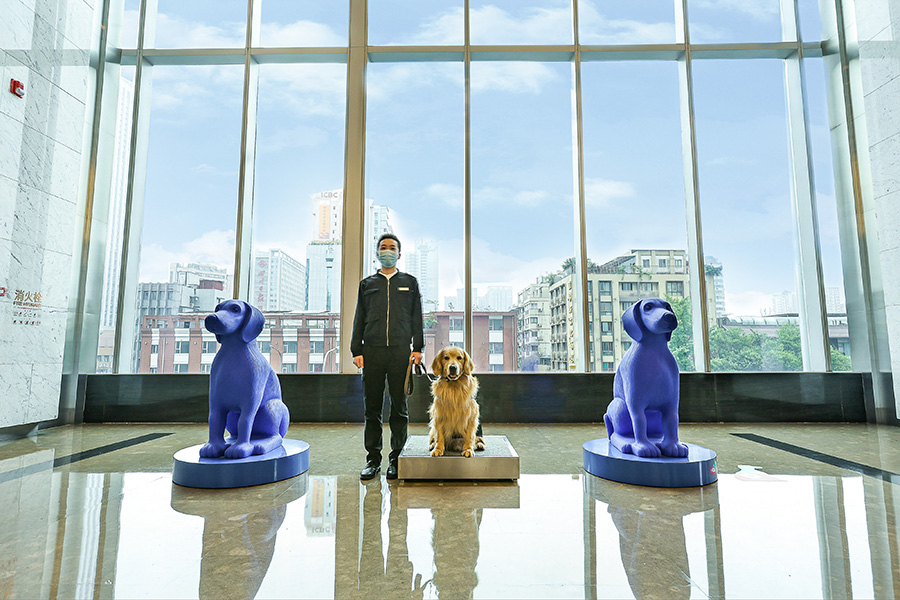 Blue Dog Guardians
Location: L3, T1 & T2 Office Building
Standing watch in front of Chengdu IFS' office buildings, the blue dogs and their real-life counterparts provides a reassuring presence and a sense of security for all the busy office workers who pass by them every day.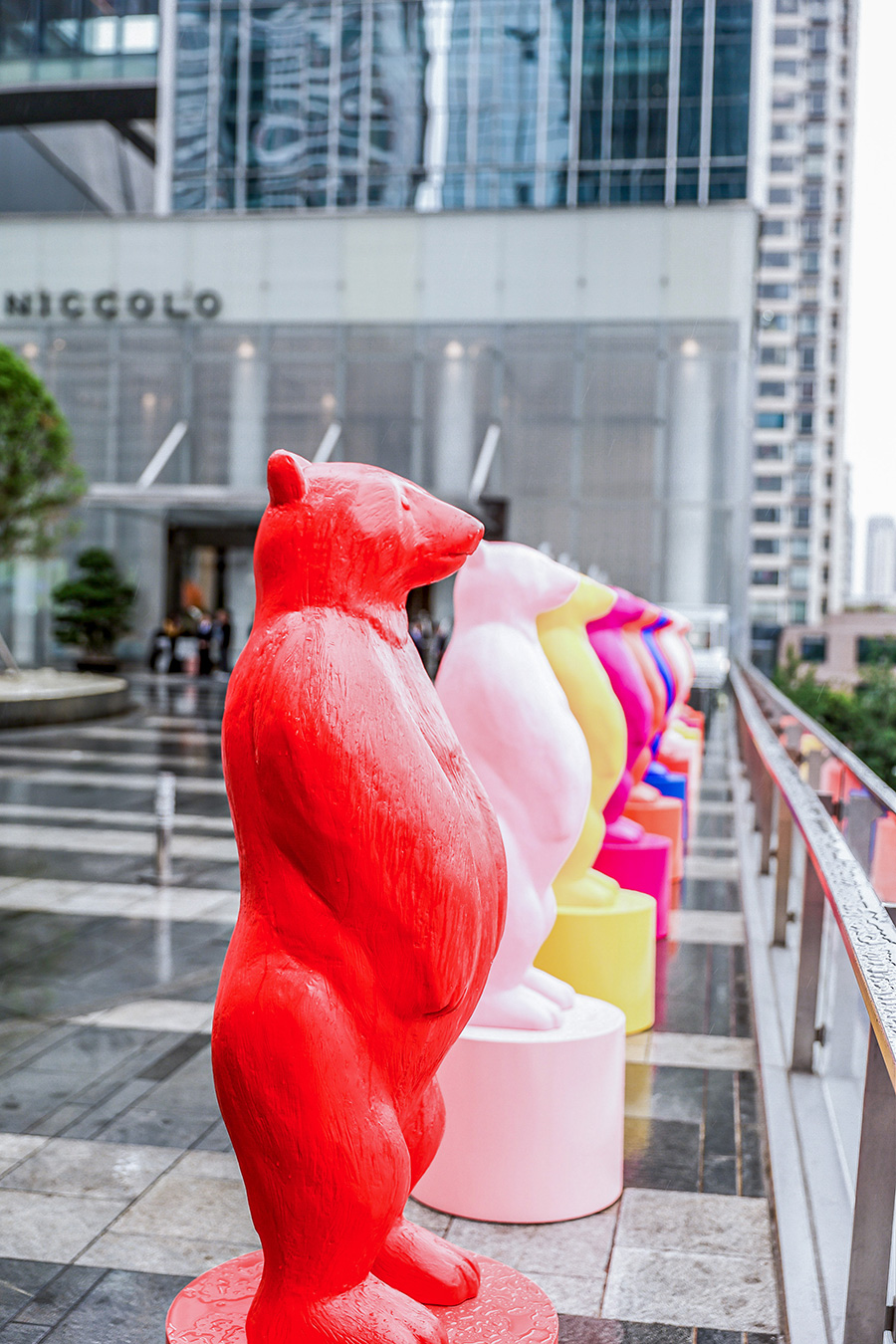 Bears Looking Faraway
Location: L3 Parking Platform (near NICCOLO)
The well-trained bears stand neatly and enthusiastically to welcome guests from afar.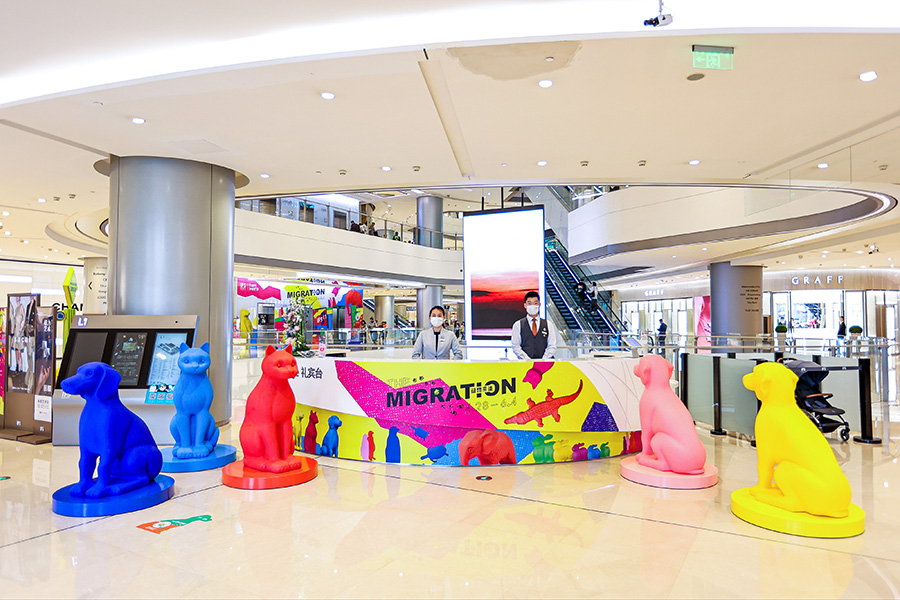 Cute-Power Hotline
Location: L1 Concierge
Visitors from around the world gather at the L1 concierge, eager to embark on an unforgettable journey and curious about all that Chengdu IFS has to offer.
In addition to the charming animals mentioned above, visitors can also discover adorable sculptures of penguins and kittens at locations such as the ice rink, VIP Lounge, and concierge. With these playful creatures as their guide, guests are sure to enjoy a memorable springtime adventure at Chengdu IFS.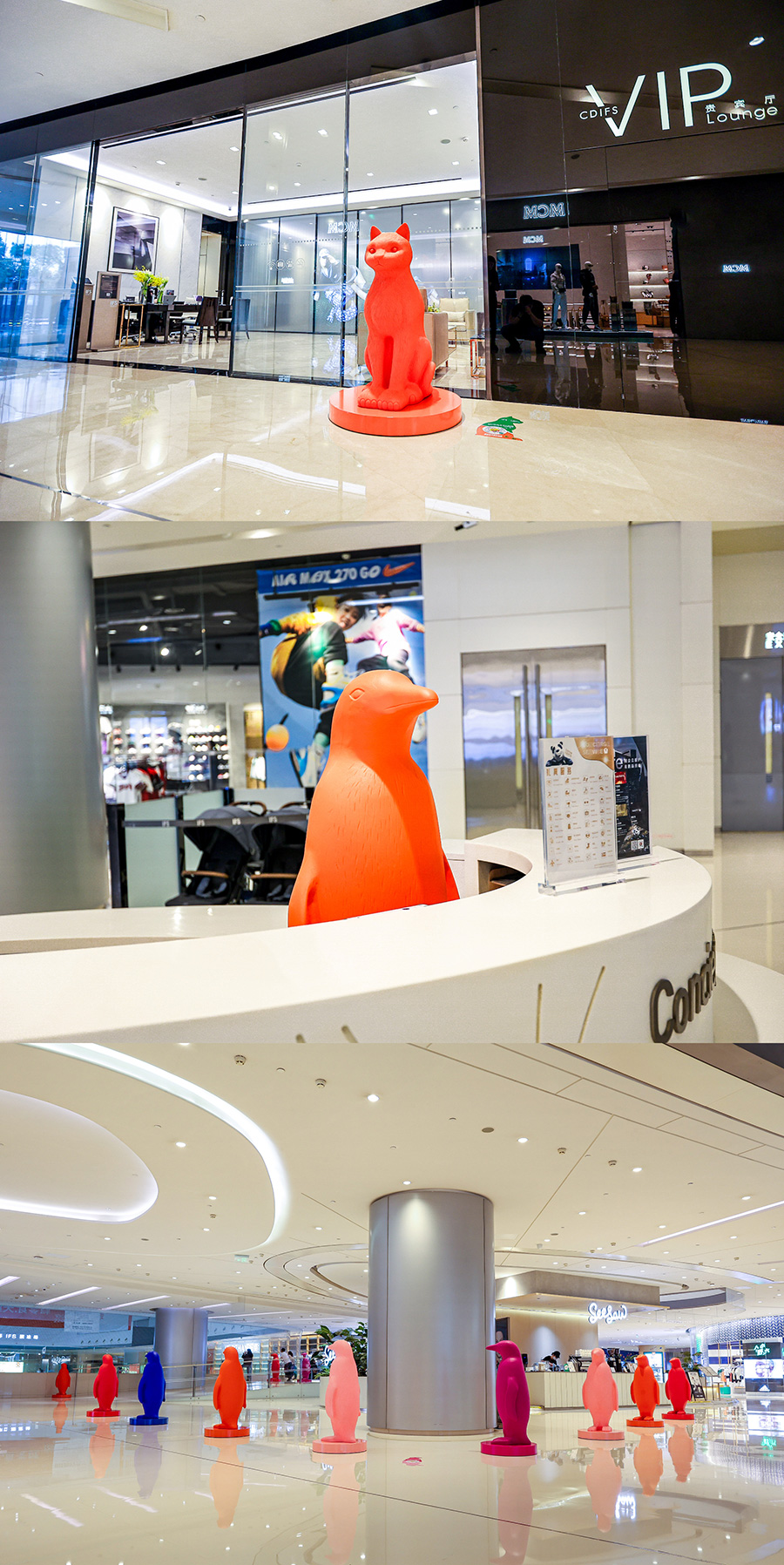 Following Interactive Map for Surprise Encounters
To help visitors locate all of the charming animal sculptures with ease, Chengdu IFS has developed a customized digital guide for The Migration. This interactive guide not only tracks the footprints of the adorable creatures, but also allows visitors to unlock all the offline fun. By searching for its WeChat mini-program or scanning QR codes throughout the mall, visitors can instantly access a colorful, interactive map that leads them to each sculpture and allows them to share the joy with friends.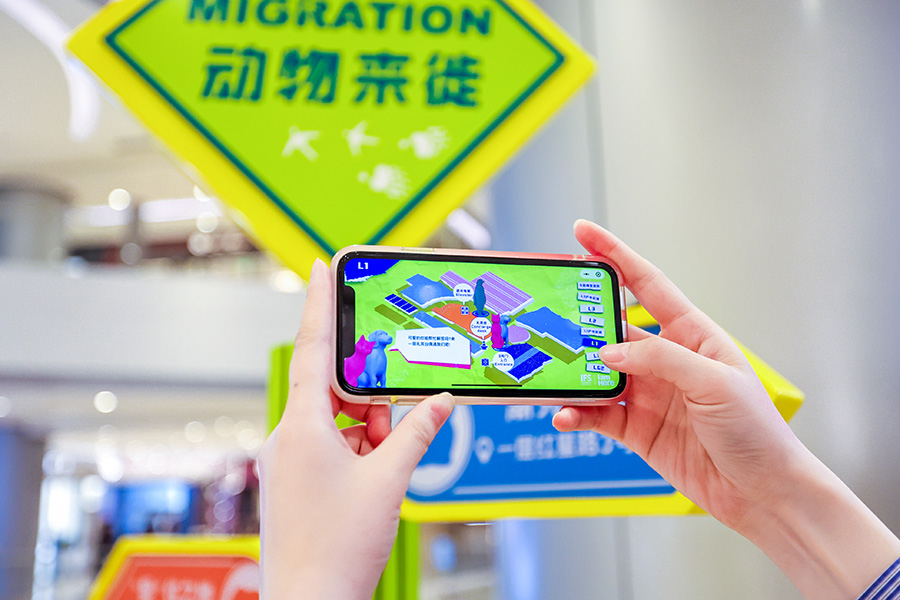 From April 29 to May 3, shoppers at Chengdu IFS who meet a qualified spending amount can enjoy exclusive premiums, such as an animal-shaped tea bag set and a customized tote bag. These exciting gifts are available in limited quantities each day on a first-come, first-served basis. Additionally, until May 31, all visitors can participate in an online mystery box collection activity, with the chance to win a variety of animal-shaped items that add a playful touch to any outfit.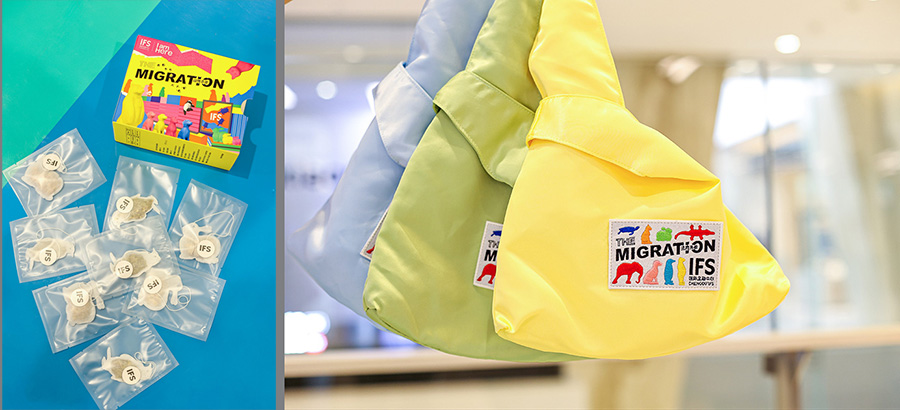 Celebrating People-Nature Harmony for Life Inspirations
Through the collaboration with the Italian eco-art movement "Cracking Art," Chengdu IFS seeks to showcase a vibrant and diverse animal world and offer the public a feast of sensory and visual arts. This collaboration was made possible by the shared commitment of both parties to environmental protection. Since its establishment in 1993, Cracking Art has prioritized environmental responsibility and social awareness, reinventing art by giving recycled plastics a second life. Following exhibitions at over 300 prominent urban landmarks worldwide, such as Central Park in New York and the Duomo in Milan, Cracking Art joined hands with Chengdu IFS for its 2023 showcase in Mainland China, recognizing the urban complex's ongoing efforts to promote environmental awareness. After the exhibition in Chengdu, the animal sculptures will travel to other Wharf Group properties, including Chongqing IFS, Chongqing Times Square, Changsha IFS, and Dalian Times Square, spreading the concepts and inspiration behind this eco-public art project to more parts of China.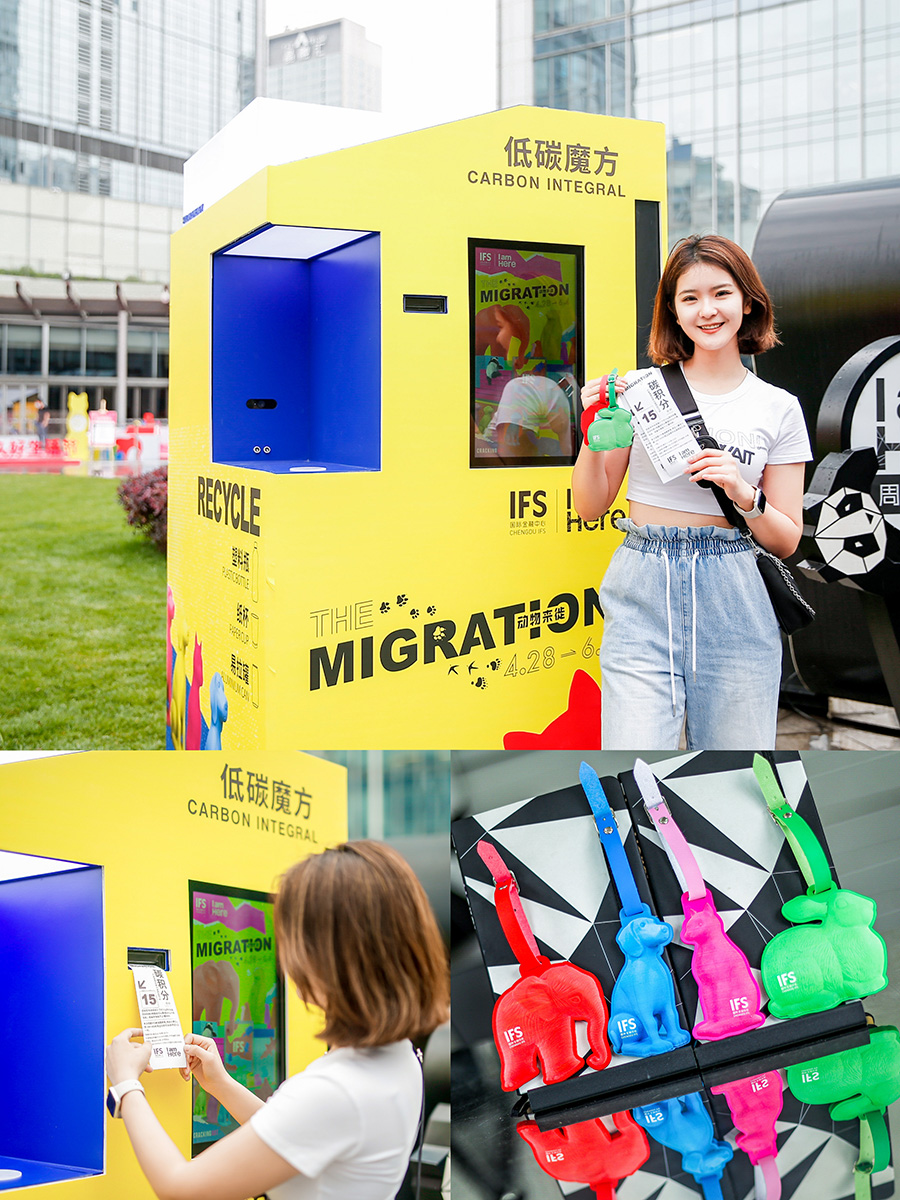 As part of its commitment to the Cracking Art exhibition and environmental protection, Chengdu IFS has developed "Carbon Integral," an interactive device that promotes a "low-carbon life" theme. Through this device, visitors can recycle used paper cups, plastic bottles, and cans and receive a coupon that reflects the carbon-neutral value of the recyclables. These coupons can then be redeemed for limited-edition premiums at the L7 I AM HERE Pop-up Store. By encouraging simple and practical actions, Chengdu IFS aims to promote green and low-carbon lifestyles among Chinese consumers.
Since its opening, Chengdu IFS has been dedicated to promoting green, eco-friendly lifestyles. As the proud owner of I AM HERE, Chengdu's iconic giant panda installation, Chengdu IFS has remained committed to efforts that protect giant pandas and raise awareness about their conservation, partnering with the China Conservation and Research Center for the Giant Panda for a series of public-service and art-themed events. Meanwhile, Chengdu IFS has also prioritized energy conservation and environmental protection, incorporating low-carbon, eco-friendly, healthy, and sustainable lifestyles into its consumer experience. The complex is the first building project in Southwest China to receive the prestigious "LEED Existing Building Operation and Maintenance" platinum certification, a testament to its seamless integration of green development and business success.
As a leader in urban style and trends, Chengdu IFS has taken on both the aspirations and responsibilities of urban life. Through a joyful and healing atmosphere, this urban complex seeks to promote eco-friendly awareness through animal-based inspirations. The Migration not only challenges the public's mindset on waste plastic usage but also effectively integrates artistic aesthetics with social responsibility. Moreover, Chengdu IFS hopes that visitors appreciating the animal sculptures will embrace a caring attitude and reflect on the relationship between mankind and nature, promoting sustainable development and environmental protection amid the harmonious coexistence between people, cities, and nature. In doing so, Chengdu IFS will provide lasting impetus for Chengdu's transformation into a park city.
About the Exhibition
Title: The Migration, "Cracking Art" Public Art Exhibition @Chengdu IFS
Dates: April 28, 2023 – June 4, 2023