Back to List
Chengdu IFS Held Grand 7th Anniversary Celebration and Proudly Unveiled Brand Renewal
January 14, 2020, Chengdu, China – Chengdu IFS today celebrated its 7th anniversary and unveiled its brand renewal in front of the mall's iconic outdoor giant panda art installation I am HERE. Government officials, brand VIPs and media representatives graced the event with attendance and together witnessed the celebration.
2020 was a year of twists and challenges for the whole world. Amid such extraordinary adversities, Chengdu IFS responds actively and even posted new historic highs in store openings, traffic volume and sales. Upon its 7th anniversary, the premium mall has proudly unveiled a new slogan "I am CHENGDU I am HERE" for its renewed brand image, seeking to closely connect its business strategy with Chengdu's urban development – in an era of change and reform, Chengdu IFS is now looking to build itself into a heat-warming urban complex of unparalleled dynamics, converge high-quality global resources, coordinate regional development visions, and meet the changing needs of consumers, thus becoming a significant belt to link the world, the city and the individuals. At the same time, the leading shopping destination in Chengdu also stages a "7"-themed anniversary carnival, working with its resident brands to rejoice the city and its residents after an COVID-impacted year.
I am CHENGDU – Co-Creating a Shared City Future
Stepping into the post-COVID era, Chengdu has announced various measures to bolster its "debut-store economy" and "night-time economy", as a way of leveraging the vitality of the Chengdu-Chongqing Economic Circle and an important strategy to accelerate recovery and improve consumption resilience. Chengdu IFS has proactively echoed the strategic decision by introducing a long list of first stores, as it looks to fully release the innovative potentials of night-time economy and actively embrace the new pattern of regional development.
In 2020, more than 120 new stores opened at Chengdu IFS, including over 70 national, regional or local debut stores. Many of them are Southwestern regional first stores by international brands, such as Canadian luxury outdoor brand Canada Goose, French heritage label Carven, Italian top lingerie brand LA PERLA, Canadian luxury jacket maker Mackage, Italian designer brand MSGM, British premium shoemaker Sauvereign, Swiss luxury watchmaker Ulysse Nardin, French parka and fur coat collection Yves Salomon, French luxury skiwear brand Moncler's children's boutique, British designer brand Stella McCartney Kids, as well as regional or even national first stores of gourmet restaurant brands like Shangshangci, Tomacado and Gyu-Kaku Japanese BBQ. Also over the past year, Chengdu IFS worked with some of its resident brands to keep elevating their store levels, launching higher-tier brand boutiques and flagship stores by brands including Audemars Piguet, Chopard, Chaumet, Hublot, Mikimoto, Kiton and Tom Ford.
Moreover, together with Chengdu IFS, these resident brands brought along more than 1,500 limited-edition store-opening merchandises, as well as presented over 70 top-class national or global premiering shows by brands including Audemars Piguet, Ulysse Nardin, FENDI CAFFE and Moncler Igloo, as Chengdu IFS is their first choice for global debut.
For the 7th anniversary, Chengdu IFS will also work with over 200 popular brands including Bottega Veneta, Canada Goose, CELINE, Loewe and Valentino to offer limited-edition new launches or exclusive items that are highly anticipated. Amid China's new"Dual Circulation" development pattern, it is providing trend-following consumers with more choices, stimulating greater consumption potentials, and helping build Chengdu into an international shopping destination.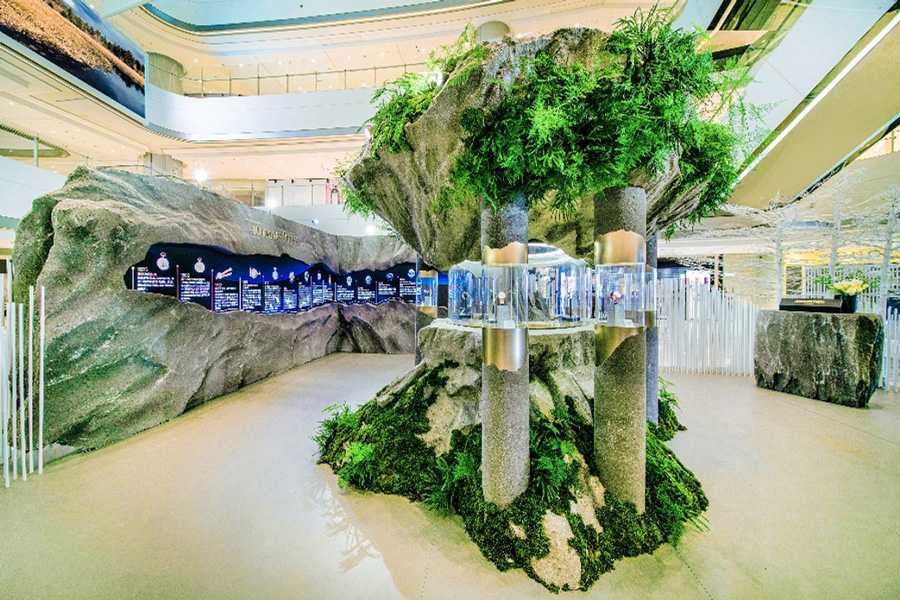 Audemars Piguet atrium timepiece show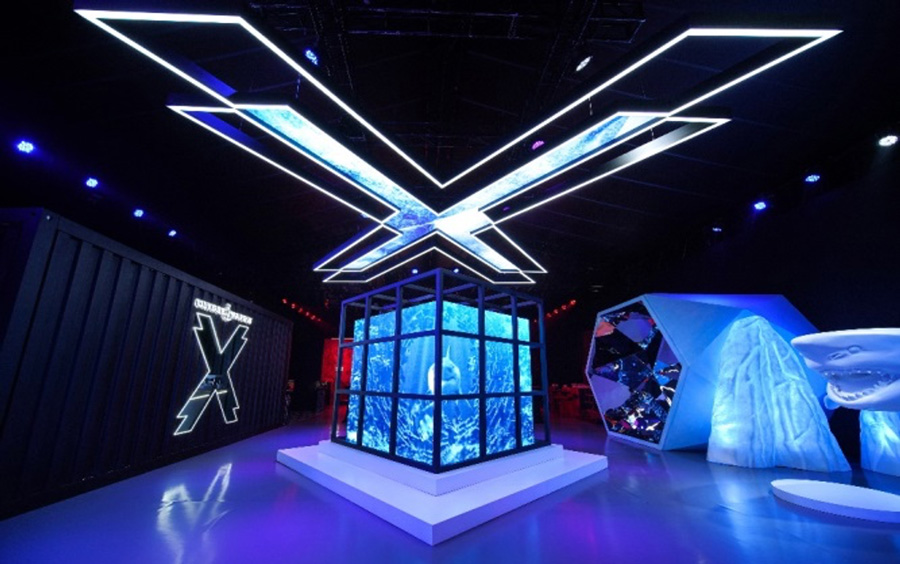 Ulysse Nardin's "Ice and Fire" thematic event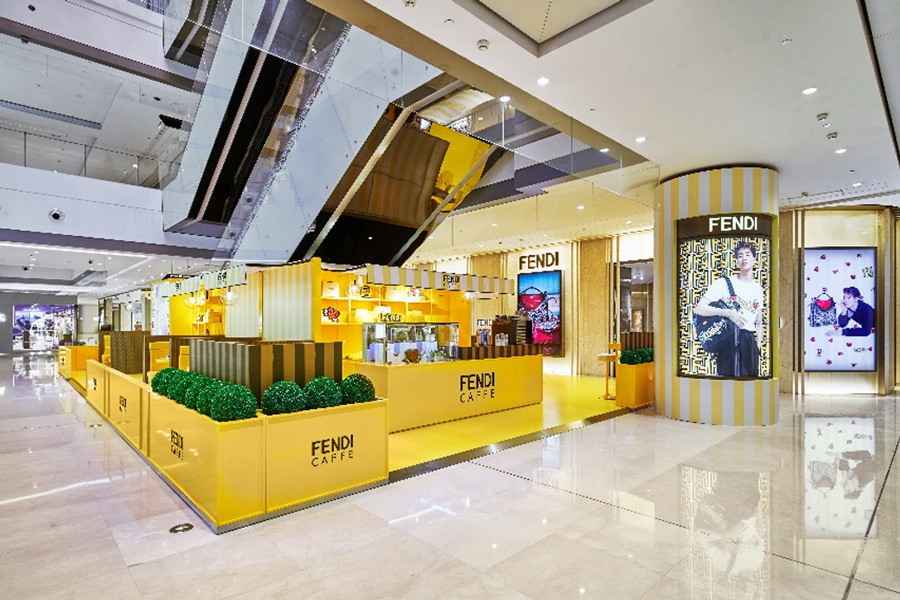 FENDI CAFFE limited cafe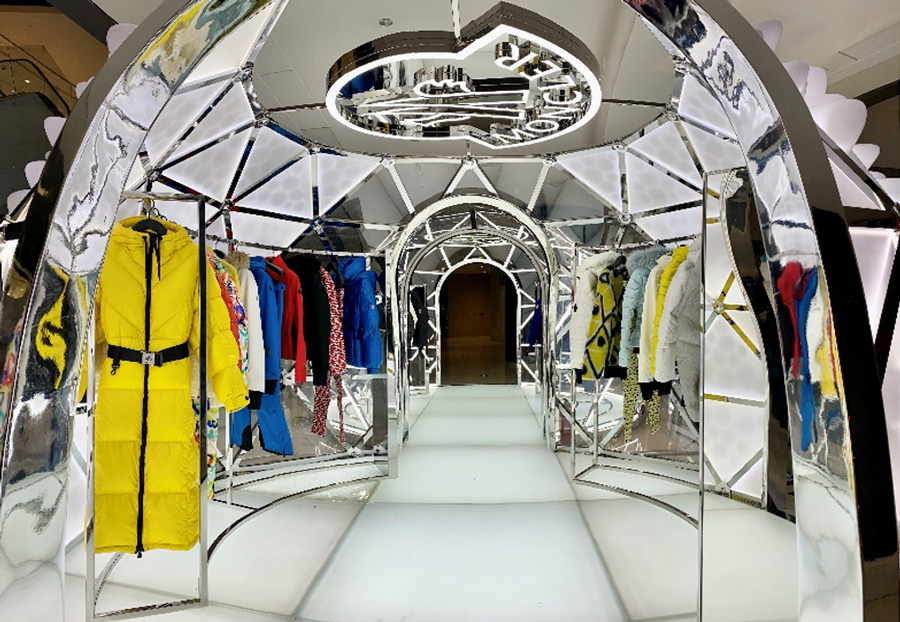 Moncler Igloo pop-up store
As an activated "night-time economy" provides more consumption stimulus to city recovery and enriches night life for local residents, Chengdu IFS has taken the lead in launching an "ultra-long standby" mode. It has created a night-time rooftop market of diverse themes and embedded the mall's public space into local lifestyle. Since the market was inaugurated six months ago, the mall has involved more than 1,600 merchants and attracted 50 million online and offline visits – as such a success it was covered by CCTV's Finance Channel three times in a month before and after the National Day Holiday.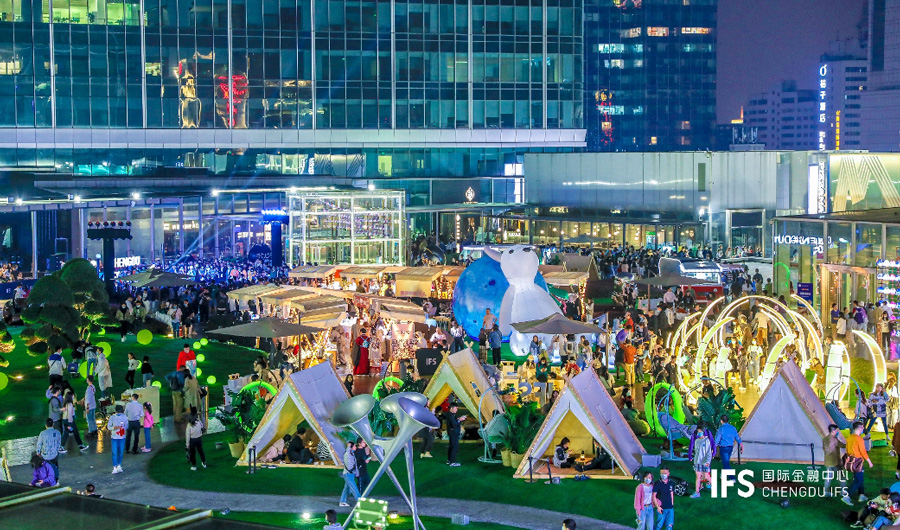 Rooftop night market full of crowds in Chengdu IFS
Amid the continuous development of the Chengdu-Chongqing Economic Circle, Chengdu IFS has been actively responding to the government's call – during the 2020 National Day Golden Week, Chengdu IFS teamed up with Chongqing IFS, another landmark shopping center owned by Wharf China Estates Limited, to offer a range of interactive campaigns such as "Exclusive Visitor Privileges" to assist the coordinated development of the twin cities' cultural and tourism economy, eventually leading to Chengdu IFS' nomination into the "Chengdu-Chongqing Top Ten New Cultural Tourism Landmarks". As 2020 saw development of the Chengdu-Chongqing Economic Circle in full swing, one-hour travel had been made possible between the twin cities due to faster high-speed train. Chengdu IFS reacted quickly to launch an enhanced version of "Exclusive Visitor Privileges" for Chengdu-Chongqing intercity tourists, helping further deepen the interaction between these two important Southwestern economic hubs and cultivate a new cultural, tourist and shopping experience.

"Exclusive Visitor Privileges" launched during 2020 National Day Holiday jointly by Chengdu IFS and Chongqing IFS
I am HERE – Building an Exclusive City Memory
Chengdu IFS has taken the initiative to pursue crossover collaborations with premium shopping resources from all over the world, planned creative workshops with resident brands, and hosted more than 1,500 events successfully to effectively maintain an emotional "connection" with the public. Through close online-and-offline business integration, Chengdu IFS has also broken time and space barriers to enliven its member resources. In as early as 2018, it made a visionary move to engage in online business expansion, develop its own IFS WeShop digital retail platform and integrate smart member service functions. It also optimized its consumer engagement capacity by upgrading the member rewards system, managing data assets, and diversifying marketing activities. In 2020, the IFS WeShop launched a "24H X 365D" retail model, working in-depth with resident brands to e-retail more than 100 limited-edition, new-launch and Internet-famous items, which attracted 600,000 clicks. And the IFS WeShop's home delivery service has also expanded the Chengdu-based mall's retail coverage to 16 provinces, autonomous regions and municipalities, driving effective conversion of online visitor traffic. Eyeing Gen Zers'continuously rising spending power and consumer brands' active digital transformation forced by the pandemic-related restrictions on offline activities, Chengdu IFS, as a premium platform of brand operations, actively embraced the emerging livestreaming trend – it launched the CHAO livestreaming studio, and has completed 1,200 livestreaming marketing sessions with resident brands that attracted a total of over 100 million online viewers.
Seven years after its opening, Chengdu IFS has cultivated 400,000 highly active members, who are loyal pursuers of trendy lifestyles. To enhance member loyalty, cultivate KOC private domain traffic, it kicked off the "CHANNEL IFS" program last year for an integrated resident promotion and member expansion model that builds on the synergy between mall, brand, VIP members and star KOLS – the innovative model owns three thematic columns: the "FAB SPY" to combine Vlog and product seeding, the "HIGHLIGHT MOMENT" approach to interpret the charm of VIP consumers, and the program called "Influencer LAB", which comprehensively decrypts premium brand trends. Broadcast-style CHANNEL IFS shares brand knowledge and latest trends for its audience. Since its inception, CHANNEL IFS has worked extensively with over 100 brands, taking advantage of the strong influence of KOCs to drive sales of nearly RMB 100 million, and supported 300 high-quality member-only brand workshops, helping brands achieve online-to-offline closed-loop sales.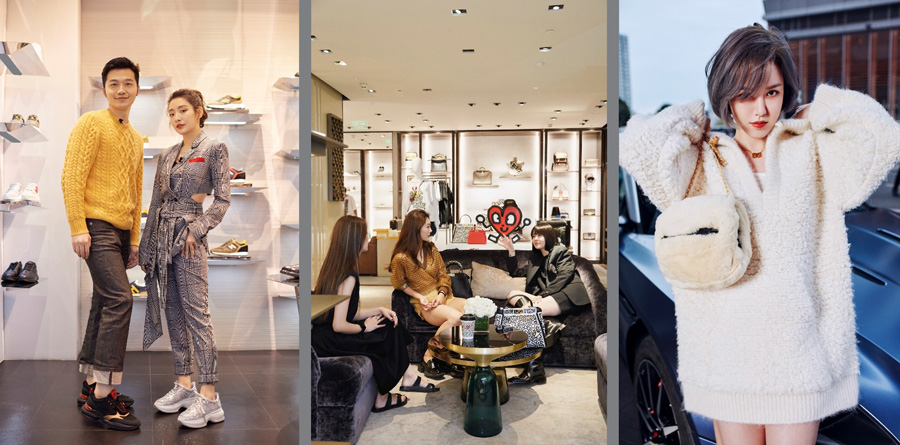 From left: Influencer LAB, FAB SPY, HIGHLIGHT MOMENT
Known as China's "new fashion capital", Chengdu is not only favored by top international fashion brands, but also has become a leading force in China's "national hip culture" thanks to its open attitude, vibration and pioneering spirit. And to capture the personalized needs of China's new-generation young consumers, especially millennials and Gen Z, Chengdu IFS has never ceased its exploring efforts – in 2020, the mall continued the optimization of its niche brand matrix and upgraded it into "CHAO Chaoji" through business integration and innovation, introducing trendy and Internet-famous brands of stronger appeal to Chengdu's young consumers, such as Let's Brow, New Era, Intelligera, Pop Mart, Manner Coffee and China's pinnacle dance studio Sinostage as well as launching limited-edition products and brand concept events to create an interactive social space rich with various young elements such as street dance and rap, sneaker shoes, e-sports, electronic music, Chinese costumes and ACGN. And through crossover collaboration, it also fostered a number of inspirational and passionate high-energy events such as the global premiere of Sneaker Con Museum, Sanrio crossover art party and the cooperation with Audi to forge China's first rooftop race track – these events effectively reached out to the "always-online" Gen Zers and helped strengthen dialogue and interaction with them.
Despite 2020's great uncertainty, Chengdu IFS still managed to secure positive growth against the headwinds – the mall maintained an occupancy rate of nearly 100% throughout the year, while its sale and visitor volumes have both grown by double digits for 7 years in a row, continuing to lead China's Southwestern market. Meanwhile, Chengdu IFS' member base increased by 30%, among which members who spend at least RMB 1 million a year have surged by 70% year-on-year. In 2020 H2, the mall's passenger flow also hit a new record high, with single-day visitor volume hitting 300,000 during the National Day Golden Week, while its H2 sales grew by 50% year-on-year. As a leader of urban retail and commerce, Chengdu IFS has been relentlessly challenging its own limits – over its 7-year growth track, the mall has won more than 200 international and domestic awards in architectural design, business and marketing, becoming the first or only title-holder of many honors in China or Asia Pacific. In 2020, Chengdu IFS received more than 30 domestic and international awards – "Fun in the AiR" AR Exhibition – China's first outdoor AR art show — became the only Asian-Pacific gold-award winner in the "Digital Campaign" category of SABRE Awards, the "Oscars" in the field of PR, and also won the Silver Award in the "Best Brand Campaign" category of Digital Communication Awards – these have all set best examples for the physical business community seeking recovery and rejuvenation in the post-COVID era.
On such pleasing results, Christina Hau, Assistant Director and General Manager of Wharf China Estates Limited, noted: "I think what we do is truly trying to integrate into a city and connect everyone who visits Chengdu IFS. We are not only building a space of communication between brands and consumers, but also providing selected global merchandises and unique shopping experiences. But more importantly, we're indeed leading a premium, trendy lifestyle."
The Grand 7th Anniversary Celebration is on
During 7th anniversary campaign of Chengdu IFS, over 200 resident brands will offer highly-anticipated new launches and exclusive discounts, with events being presented both online and offline. The mall is also turning itself into a massive carnival, where visitors can pose at the "I am HERE" urban art installation to unlock novel photo ideas and visit "I am HERE" pop-up stores to shop limited-edition brand merchandises. Other exciting interactive events include touring performances such as rope trick and bouncing ball, pop houses of five different themes, cyberpunk-style futuristic VIP Party with special guests, and "Lucky 7" shopping discounts, lucky draws, bank card privileges and multiplied reward points, ensuring that visitors can enjoy the strongest benefits of the year! And the delightful surprises for Chengdu IFS' 7th anniversary are not limited to offline campaigns, as the mall brings along equally exciting online fun, with special events like CHANNEL IFS 7th anniversary special project, annual member shopping statement indicating stories with Chengdu IFS, gaming WeChat mini-program, AR interactive program, Douyin "I am HERE" elevator challenge and 24-hour livestreaming of "slow life with panda".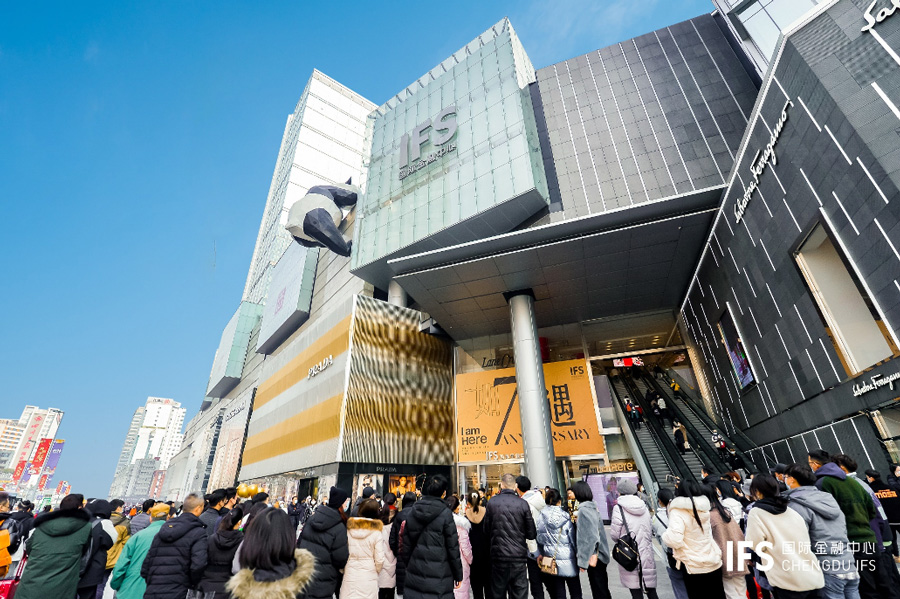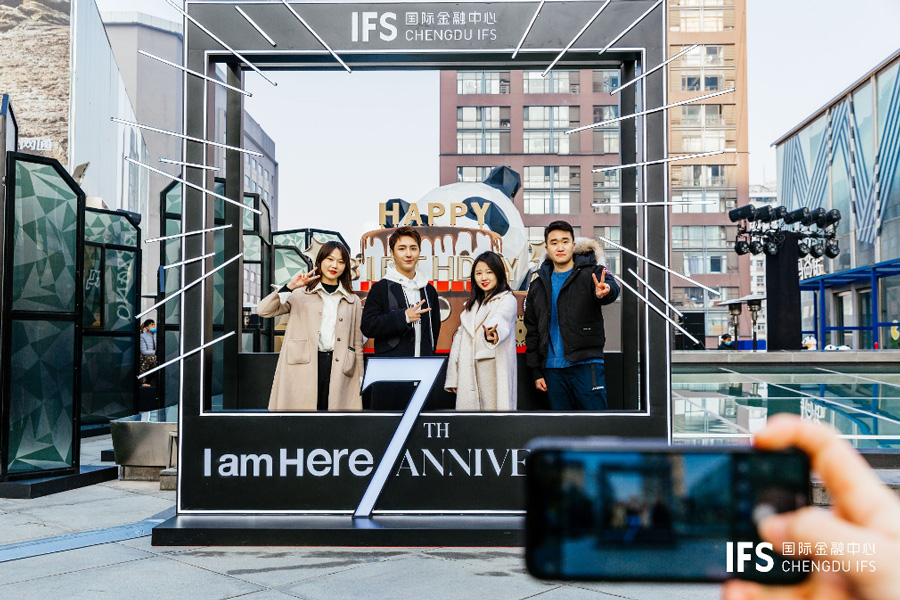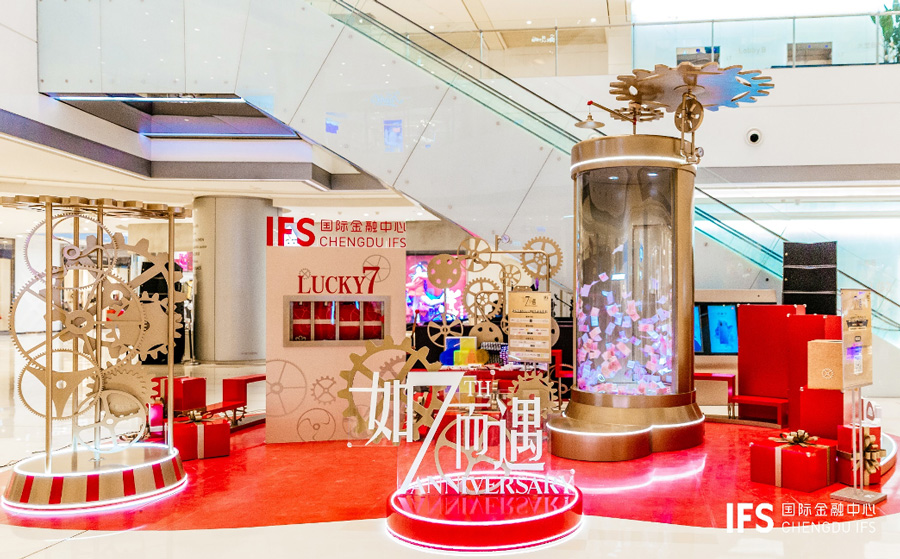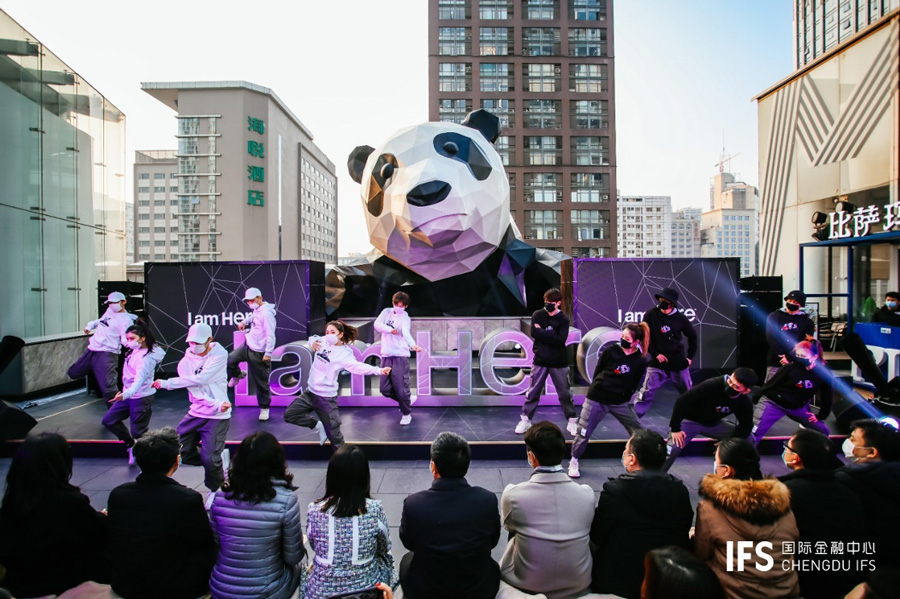 Highlight moments of Chengdu IFS' 7
th
Anniversary launching ceremony
With a fully renewed brand image, Chengdu IFS will continue to create values for the city, explore digital empowerment of physical businesses, enable art, culture, life and business to integrate and thrive, and build a new way for consumers to pursue better, quality life. I am CHENGDU I am HERE.